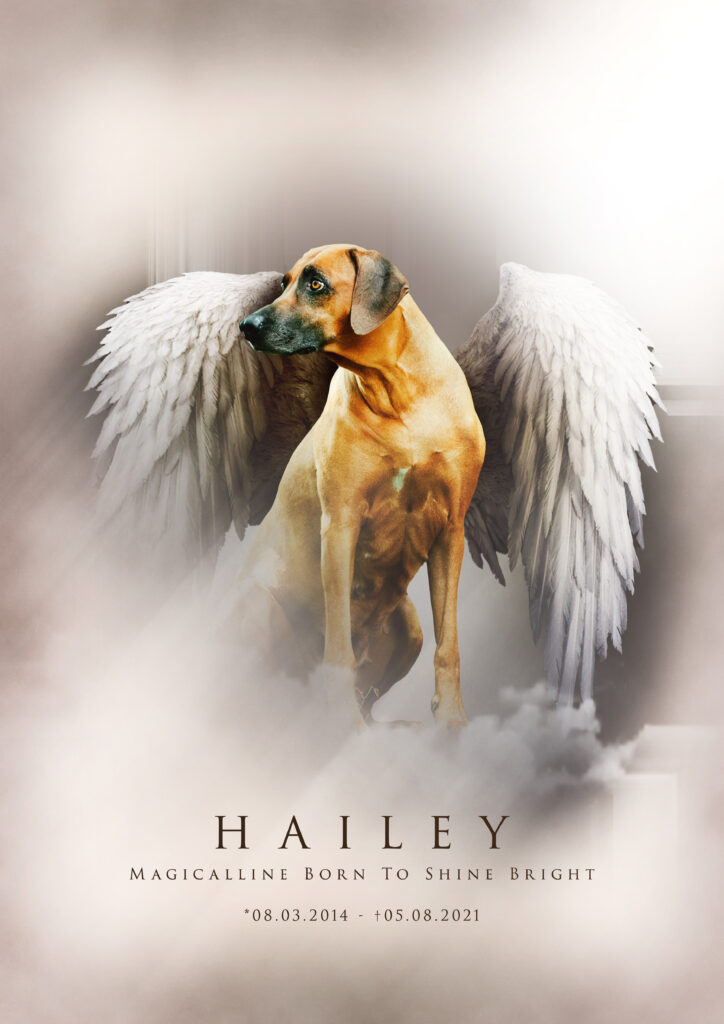 Rhodesian Ridgebacks australischer Herkunft konnten mich schnell von ihrem sehr
sozialverträglichen, freundlichen und ruhigen Wesen überzeugen. Somit stand für mich fest,
meine Zucht auf diesen Linien neu aufzubauen.
Im Mai 2014 wurde unser Rudel durch ein weiteres Mitglied verstärkt. Hailey zog bei uns ein.
Magicalline born to Shine Bright stammt aus dem Kennel von Melanie Nowak und verkörpert für
mich den perfekten Laufhund. Sie ist ein sportlich eleganter Typ mit einen sozialverträglichen
Wesen und zeigt Leistungsbereitschaft. Hailey apportiert zuverlässig aus dem Wasser, sowie auf dem
Land. Beim Coursing kann sie ihre Schnelligkeit, Intelligenz und Geschicklichkeit unter Beweis stellen.
Ihre Mutter, Tusani Day for Magic, stammte aus dem erfolgreichen Tusani Kennel von Frau Monika Tusanova.
Magic`s Mutter Puppet , Macumazahn Malawi Magic, war eine der Stammhündinnen vom Tusani Kennel und
wurde aus Australien importiert.
Ihr Vater , Elangeni Lion out of Africa, stammt ebenfalls aus Australien und lebt in Paris im
Kennel : Out of Africa.